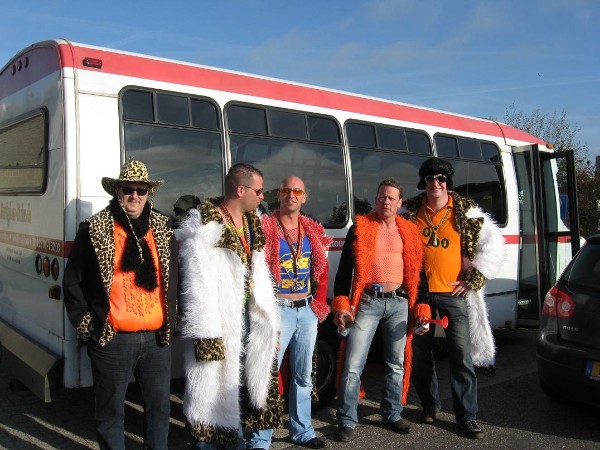 Are you interested in our XL-Shuttle?
In April 2006 we added a US-Shuttle Bus - now a licensed rental-omnibus - to our fleet of vehicles.
It can be used for a wide range of purposes: school or kindergarten outings, firm's outings, stag parties, event-shuttle, fair or exhibition-shuttle, airport transfer, skittle or bowling club trips, whatever the need may be.
The amount of space and the driving experience are unique. The bus is an eye-catcher – outside even more than inside.
This "XL-Shuttle", a Ford 350 Super Duty, was in service for LTU at Duesseldorf Airport from 1996 till 2000 and thus it naturally shows signs of use. The internal furnishings are not exclusive but most functional.
It is equipped with a 7.5 Liter-V8-Diesel- Motor generating 214 PS.
The shuttle is characterized by U-shaped seating enabling the passengers to see each other and to hold conversation. This feature together with inbuilt music player (inclusive of booster) promotes a convivial atmosphere.
The air-conditioning system, built to cope with American conditions, provides comfortable temperatures at all times. A powerful heating system provides for cold conditions in winter. Tinted glass windows prevent curious viewers from seeing inside the bus, and in addition, curtains can be fitted for complete privacy.
The bus can be viewed by appointment.
The vehicle rental rates, inclusive of driver, are moderate and calculated according to length of rental period, distance or road route, and also rental purpose.